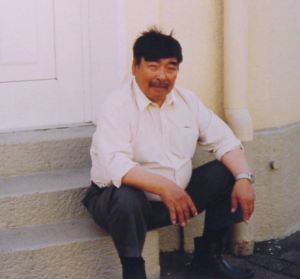 Kananginak was a sculptor, designer, technical draftsman and graphic printer. He was born on January 1, 1935 in the traditional Inuit Camp Ikirisaq on Baffin Island. With his parents Josephie Pootoogook – then camp leader – and his wife Sarah Ningeokuluk, he lived the traditional lifestyle: hunting and trapping, living in an igloo in winter and a sod house in summer.
In 1957, Kananginak married Shooyoo from Kinngait and they lived in Ikirisaq until moving to Kinngait in 1958 due to Kananginak's failing health. There Pootoogook began working for James Houston. Pootoogook was a prominent village leader and was very instrumental in founding and building the West Baffin Eskimo Cooperative (see also Iyola Kingwatsiak p. 86). He was president of the cooperative's board of directors for several years.
Pootoogook worked in various media from drawings, stone and stencil printing, lithographs, etchings to sculptures. He created vivid documentary drawings of Arctic fauna, hunting scenes, daily life and Inuit culture. In 1978, four of his paintings were included in a limited-edition portfolio of the World Wildlife Commission. In 1980, he was elected to the Royal Canadian Academy of Arts. In May 2017, Pootoogook's works were integrated into the 57th Venice Biennale. Thus, Kananginak was the first Inuit artist to participate in an international art fair.
In 1997, Pootoogook was commissioned by Romeo Leblanc – then Governor General of Canada – to construct an Inukshuk in Kinngait, which was then dismantled and transported to Ottawa. Together with his son, he was then allowed to rebuild the Inukshuk on the Rideau Hall property as a tribute to the Aboriginal people of Canada. The unveiling of the Inukshuk took place on June 21, 1997 (summer solstice).
On the occasion of the exhibition 'Master Sculptors of the Arctic' Kananginak joined us together with Oviloo Tunnillie in our gallery in spring 2000.